Idaho black bears are sought after for their size and color phases.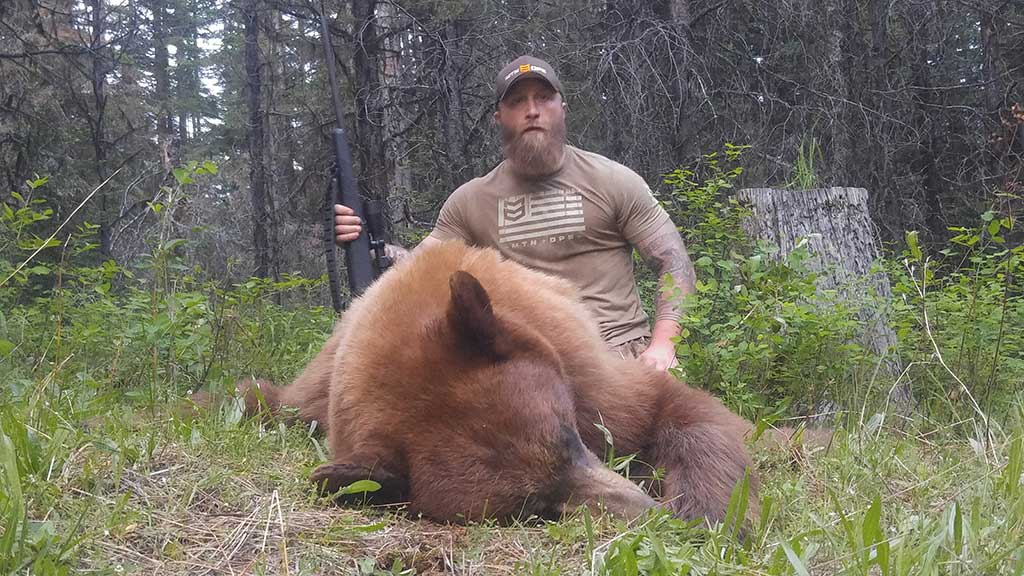 Miles High Outfitters offers an extremely high success rate hunt with a special emphasis on taking mature boars. 
A respectable bear in this area starts in the mid-200 pound range with our largest boars approaching 500 pounds. range.  
As to the varying colors:   Idaho Bears range from jet black to as blonde as Marilyn Monroe's hair and everything in between.
SEASONAL
Choose from Spring Bear Hunting or Fall Bear Hunting.
Miles High Outfitters "black bear hunting"  is truly some of the best you will find anywhere because of the fantastic resources that our permit area has to offer, including thousands of acres of public lands.   Most of the bears we hunt have never seen humans.  This is due to the fact that they have a large wilderness area to use as security in which to mature.
Miles High Outfitters offers bait, spot stalk and hound pursuit,  depending on our client's choice of hunt and also the endurance levels that you are able to achieve.
This is a great opportunity to get together with a group of buddies or have a one-on-one hound hunt to experience the peace that the outdoor wilderness has to offer.
448
false
false
true
false
true
true
false
auto
false
ease-in-out
300
false
0
true
true
%curr% of %total%
BAIT HUNTS FOR BLACK BEAR
Bait hunts are for people of all experience and endurance levels and for those who want it to be easier on their pocketbooks and still have a great chance for that bear of a lifetime.
Hunting over bait gives you a better chance to pick and choose the right bear for you. You have the ability to sit quietly, relax and judge your trophy and making sure it's the one you want to take home, whether it be mounted life-size or made into a beautiful rug. We usually set up trail cameras on our bait sites so that we can set you on the site we know has the biggest bears and the most activity.  Baits greatly increase the chance of you taking the trophy you want.
HOUND HUNTING FOR BLACK BEAR
Click here to see a hound hunting video
Our black bear hound hunts are for the person who wants more excitement on their trip. This method of hunting bears is as physical as it gets in the hunting world, so to enjoy your experience you should be in good physical condition.
Some people love the emotional connection they have with the hounds who put their lives on the line to assure them their trophy. You will, by the end of your hunt, know each hound's name and each person will have their special dog that they have bonded with. These hunts will take place early in the morning so the hounds can catch the scent of their quarry before the scent burns off with the sunlight.
You will be hunting behind the best proven hounds in the country. We take no shortcuts with our hounds; they can and will get the job done for you. If you are a thrill seeker, hound hunting is for you.

SPOT AND STALK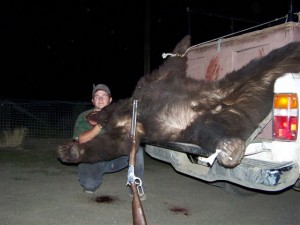 We also offer spot and stalk black bear hunts.
There are some advantages to spot & stalk bear hunting versus baited bear hunts. Mainly it's personal preference though.
These spot and stalk hunts for black bear usually take place looking over large vistas for foraging bruins. This allows you to relax and take in the wonder that is spring time in nature. You'll be glassing for marauding bruins who are out looking for fresh green growth or looking to steal a calf from an unsuspecting cow elk.
This is truly a chance to hunt the bears on their level and witness nature at it's best first hand.