About Miles High Outfitters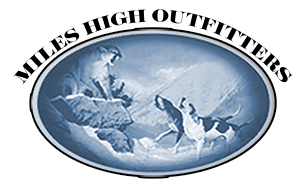 At miles high outfitters, we have one simple goal:
To give each of our clients the kind of backcountry hunt that we would expect ourselves.
We purposely take fewer hunters than our area can handle for two reasons:
First, we take pride in our high success rate.  And second, we don't want to jeopardize the quality of game just to increase the bottom line.
I've seen all types of guides and hunters, both good and bad.    From my years of hands-on experience in the woods, tracking and enjoying the passion of the hunt,  I've come to know one thing is for certain….. there is no substitute for honesty, hard work and dedication to my expertise as an outfitter.
My name is Miles and I'm a second generation outfitter.
From the time you arrive in Central Idaho for your hunt, whether we're hunting bugling bulls in September or following my veteran pack of hounds for fall bear hunting or tromping through the winter landscape in pursuit of mountain lion, I can promise you that we'll leave it all in the woods.
In the woods, we wear our hearts on our sleeve, in pursuit of delivering you the hunt you've dreamed about, and we're not a bit ashamed of the passion we feel to that end! 
I look forward to hearing from you! 
When you call, I will answer personally to introduce myself and begin a conversation about the Idaho hunt you're interested in pursuiting.  I'll answer all of your questions and together we can transition your dreams into reality and the guided hunting adventure of a lifetime. 
Sincerely
Miles Hatter
Miles High Outfitters
208-697-3521