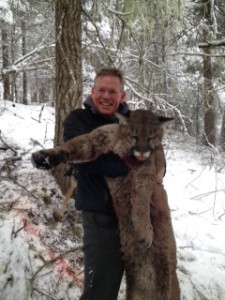 This is a testimonial from one of many new friends here at Miles High Outfitters.
We were able to make this gentlemen's  dream come true on a very successful Idaho Mountain Lion Hunt.
"I hired Miles Hatter of Miles High Outfitters because I sensed I could trust him to work harder than any other guide to find my once-in-a-lifetime mountain lion.
He made it his mission to help me fulfill my dream of taking a cougar. Miles had at least as much fun hunting as I did.  We quickly became hunting buddies, except he did most of the work.
Miles knows these Idaho hills and the places where he can find the cats.  He lives here and has hunted lions since he was a kid with his father,  who is also a professional guide.
Hunting mountain lions is in his bloodline, just as it is in the premium hounds he has raised for this purpose.  Every day Miles put us on fresh tracks.  The hounds took over from there and knew exactly what to do without needing direction.
Miles uses the latest GPS technology to make following the dogs quicker than I expected.  Because Miles knows the roads so well, he was able to drive us in close proximity to where the hounds had treed my lion.
A
good mountain lion
will now be in my den, and thanks to Miles, I'll have fun telling the hunting story for the rest of my life."
-Welcome Sauer
Wenatchee, WA