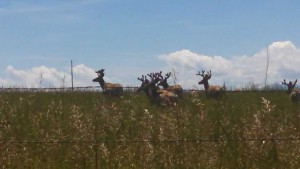 If you are interested in an Idaho mule deer hunt with archery or rifle be sure to check out the mule deer page for more info.  We are pleased to be offering trophy mule deer hunts on our large private ranch.  This isn't your average mule deer hunt.  This is an opportunity at a true trophy.  Our average mature bucks are in the 170 class and we'll be targeting bucks 180 and larger.
You can choose archery in September or Rifle in late October's rut.  Both hunts offer lots of deer and the chance to pick your buck from one of many that roam our place
We'll be keeping tabs on the progress of the new ranch as the year goes along so be sure to check back from time to time.  We'll have trail cam pics of big bucks and pics of big muley bucks down.  So stay tuned, it's gonna be fun!